Filter By:
Show More Brands

---

Show Fewer Brands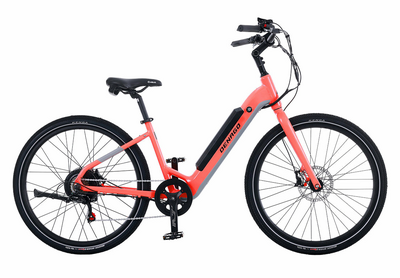 With a step-thru frame, our City Model 1 eBike features an ultra-low standover height, making it simple to start and stop. Our comfort geometry gives you an upright riding position to easily see your surroundings. The City Model 1 is focused on your riding comfort, with a wide, padded saddle. The adjustable stem can be raised or lowered to put the handlebar in a comfortable position for your body type. EBIKE FEATURES: Class III eBike, up to 28 MPH pedal assist and 20 MPH throttle Adjustable speed limiter can be set as low as 11 MPH to meet local trail rules or accommodate riders who prefer slower speeds. 5 levels of pedal assist - PAS 0: no motor assist - PAS 1: 15 MPH - PAS 2: 17.5 MPH - PAS 3: 20.5 MPH - PAS 4: 23 MPH - PAS 5: 27 MPH Throttle only: 20 MPH Speeds will vary slightly depending on terrain, rider weight, and battery charge. LCD display High-resolution digital dashboard shows your speed, trip distance, time, battery charge, pedal assist level, and more; all at a glance. There's even a backlight for night riding. Powerful 500 watt hub motor Plenty of torque for climbing hills or handling headwinds with ease. High-capacity battery and 3 Amp fast charger Go further between charges with a big, 652.8 Wh battery, built with premium LG cells. Recharge 50% faster than competing brands. 40+ mile range Real-world range testing shows most riders will get more than 40 miles on a single charge when using pedal assist, and 20 miles on throttle alone. Denago recommends: One Size for riders 5'2" - 5'11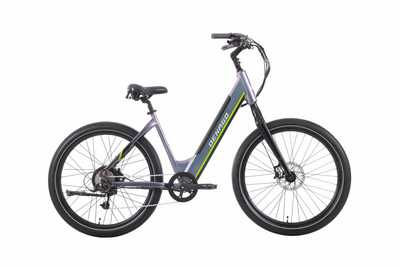 Our Denago City Model 2 eBike in step-thru frame style makes it easy to start and stop, even if you have a short inseam or difficulty throwing a leg over the saddle on a traditional top tube style bike. Our follow-up to our award-winning City Model 1 is upgraded with an integrated battery and wider 2.6" tires. eBike Features: Class III eBike with pedal assist and throttle Travel up to 28 MPH on pedal assist, and up to 20 MPH on throttle alone without pedaling. Stealthy, integrated battery 652.8 Wh (48V, 13.6A) battery is integrated into the down tube for a stealthy look, making it less obvious you're riding an eBike. Includes 3 Amp fast charger, you can charge with the battery on, or off the bike. 40+ mile range Real-world range testing shows most riders will get more than 40 miles on a single charge when using pedal assist, and 20 miles on throttle alone. Digital display Monitor your speed, distance, battery charge, and other data on the high-resolution display. Set an optional PIN code for additional security. Denago recommends: Size S/M for riders 4'11" - 5'8" Size L/XL for riders 5'8" - 6'5"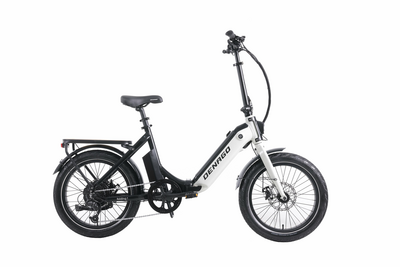 Our Denago folding eBike is a powerful, compact model ideal for van life, RV travel, or anywhere with limited storage space. Easy to store and transport thanks to a folding frame, pedals, and handlebar. Features both pedal assist and throttle modes with a sleek, hidden internal battery. The combo of the ultra-low standover height frame and telescoping seatpost means almost everyone can ride, regardless of height or inseam.  eBike Features: Folds for maximum portability Folding 1 is equipped with a folding frame, handlebar and pedals so it can fit into tiny spaces. Ideal for vanlife, college dorms, or RV travel. Easy to carry in your car trunk or store in a coat closet. One size fits almost everyone With an ultra-low standover height and telescoping seatpost, our Folding ebike is easy to share with friends or family. Built-in lights Built-in front and rear lights are powered by the eBike battery. Turn them on and off from the handlebar remote. The rear even lights up when you brake! Ride your way Up to 20 MPH on throttle and up to 25 MPH on pedal assist. See all your stats on the high-res digital display. Locking hidden Li-Ion battery Our 672 Wh battery (48 volts, 14 Ah) is completely hidden inside the folding frame and locks with a key for security. We built it with quality LG cells and included a 3 Amp charger so you can recharge 50% faster than other brands. 500 watt hub motor Powered by a lightweight 500 watt hub motor - plenty of torque for speed, while keeping things light enough to carry (complete bike 62 lbs) The Folding 1 fits most riders 5'1" - 6'5". Always wear a helmet, and ride only where safe, legal, and appropriate.